Howdy! :D
Two weeks ago, I mentioned here that I was going on a trip, but I didn't say where.  I just returned a few days ago, and I'm ready to share my adventures with you! I'm sure you're "dying" to know all about it, so without further ado…..
That's right! If you guessed I was going to Texas, you were correct! We went to visit some family who we haven't seen in several years, and had so much fun!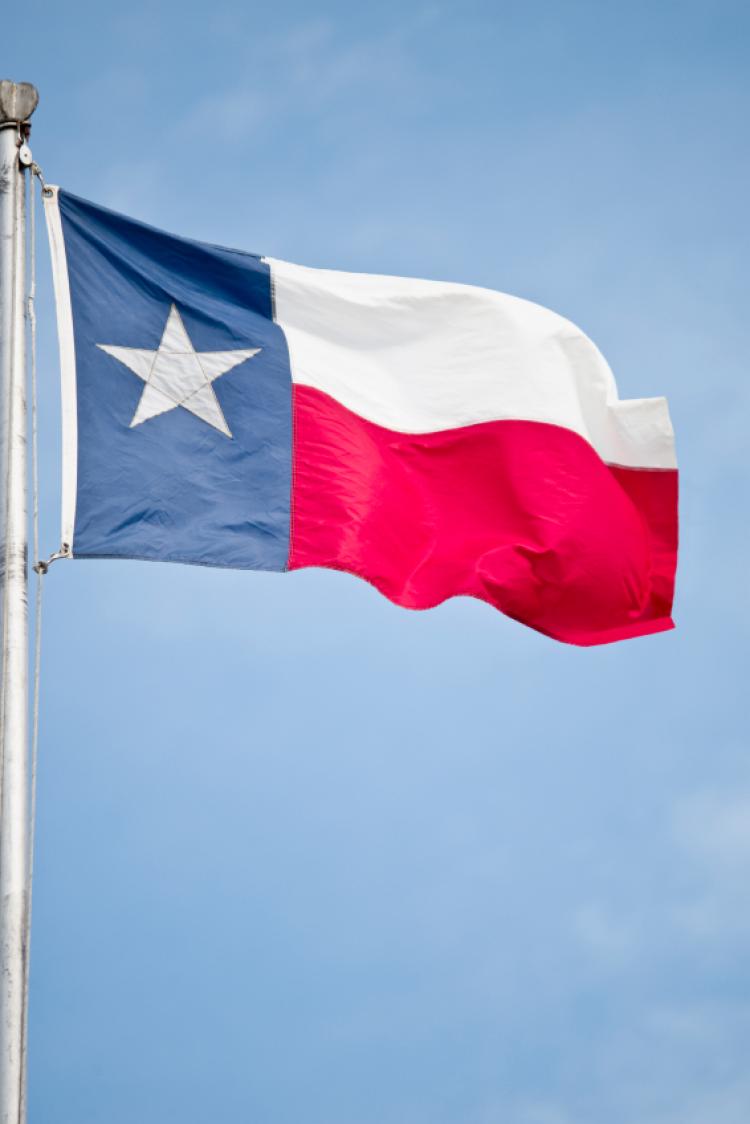 We flew into Texas last Tuesday, and had to get up suuupppeeerrr early to catch our flight. I'm talking 3:30 AM early. We spent the whole day traveling (we switched planes, had layovers, etc.) so we were exhausted when we finally arrived at my Aunt's house.
After a good night's sleep we spent the entire next day outside. My Aunt and Uncle live on a chicken farm, and there's lots of space to run and play. The weather was beautiful, especially after being stuck in snow for 2 months. *shivers* My brother and I enjoyed playing outside, driving around in the Mule, and playing with the 2 dogs, Annie and Sister.
So you might be wondering, "what exactly is a chicken farm?" I'll explain: my Uncle has 6 long chicken houses, where he raises chickens for, well, food. You know the chicken meat you buy at the grocery store? He raises chickens for a company that processes them and sends them to stores, where you buy them to cook and eat. In each chicken house, he has about  26,400 chickens, and he raises them for 49 days before they're sent to the processing plant. We were there when the chickens were about 40 days old.
After spending a few days with my Aunt, Uncle, and other family, we drove 4 hours to see another Aunt and cousin. On the way, we stopped at Buc-ee's, my favorite pit-stop in Texas!
Buc-ee's is a huge convenience store, where you can buy food, drinks, fill up your car, and take a break before hitting the road again. No Texas road-trip is complete without a stop at this place! (Plus, their mascot Buc-ee the Beaver is super cute!)
I also bought a bag of salt water taffy. Guys. This stuff in my weakness. It is so. good. If you've never tried it, you need to get a bag and try all the flavors. :)
My Aunt owns a little cabin where they go hunting. Even though it's the middle of February, my cousin, brother, and I went for a swim in the nearby river. We swung on a rope, practiced our cannonballs, and skipped rocks. Was it cold? Yes. Were we soaked? Yes. Was it worth it? Totally.
After we played in the river, we headed back to the cabin, where we ate dinner and roasted marshmallows around the fire pit. We enjoyed hanging out, talking, laughing, and just being together.
The next day was Sunday, so we went to church. Afterwards, my Aunt took us to a cute little apple store, where they have every kind of apple dessert imaginable. We finally settled on some apple ice cream, an let me tell you. This stuff was amazing. I didn't get a picture of it, but it was soft-serve ice cream that was flavored with apple and cinnamon. So. Good.
After going for another swim in the river, we headed back to the chicken farm to spend our last few days there. (We stopped at Buc-ee's again XD )
We decided to take a trip to the George H. W. Bush Presidential Library, which is located by Texas A&M in College Station. George H. W. Bush was the 41st President of the United States, and served for 4 years. He was also the Vice President to Ronald Reagan. His Library includes a collection of things from his life and presidency, as well as his grave.
Below is a picture of a four-leafed clover, a photo of Mrs. Barbara Bush, and a heart-shaped charm that says "For The Love of Robin" on it. The charm was for The Bushs' daughter, Robin, who passed away from leukemia at age 3. President Bush carried these 3 items in his wallet for 40 years before donating them to the Museum.
George H. W. Bush passed away on November 30, 2018, and was buried by his wife and daughter at his Library.
After we went to the Bush Library, we spent some quality time with our family and soaked up the sunshine before flying back to snowy Canada the next day.
I hope you enjoyed reading about my trip to Texas! We had a blast while we were there, and enjoyed being with our family. Have you ever been to Texas? What did you think? Let me know in the comments – I'd love to hear from you!
Have a great week!
– Meredith :)