I should be doing schoolwork right now, I really should. I have a huge project due tomorrow, and I've barely started on it. But I don't want to work on it, not now.
So I'm writing this instead, because I'm a mess right now, and so is the world.
I just found out yesterday evening that in the State of Missouri, we have been ordered to stay at home unless absolutely 100% without a doubt undeniably necessary.
And I am devastated.
Yes, I understand that this is an effort to slow the spread of the coronavirus. We're living in a very serious time right now where countless people are very sick, and we're doing all we can trying to stop it. This is no joke, and I get why this is happening. 
But that doesn't mean that this quarantine is going to be easy.
I am (for the most part) a social butterfly. I thrive on interactions with other people. Yes, there are times where I don't really want to be around others, but I definitely need lots of human interaction to maintain an acceptable level of sanity. So, I've concluded that this quarantine is going to be rough.
I've already been at home for about a week – I only left the house last week to go to work a few times. We're under orders not to leave home until April 24. That is 32 more days of isolation with no one to interact with but my family. (Yes, we do love each other and are a happy family, but there is a point where we all start to drive each other absolutely nuts… I'm not exactly looking forward to that. XD) Everything has been cancelled – no co-op, youth group, church, work, activities – nothing. I usually leave the house almost every day of the week for something or other, but it's all cancelled now, and I'm not exactly thrilled about it.
I'm sure you're in the exact same boat as me right now. You might be rejoicing that you don't have to see people for a month or two, or you might be sad that you won't be able to go out for a while. Either way, we're all in this together, and that's a comforting thought.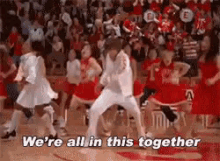 My family and I were talking about this quarantine last night, and we compared it to 9/11. Even though I wasn't around on September 11, 2001, I understand how tragic and grave the situation was. Yes it was a terrible crisis which shook America, but not quite like this. After 9/11, people came together to comfort each other, mourn the losses of those who passed away, pray, and provide support for those around them. This, however, is different. We can't come together for support. We can't come together to mourn for those who've passed away. We can't come together to pray. We can't come together for a n y t h i n g. And that's hard.
Now, I'm not writing this post to whine or complain about my situation – I realize that I have it much better than a lot of people right now. It's just that this is going to be difficult, and I don't understand why this is happening. I don't understand why there is a terrible virus consuming the earth. I don't understand why everything has been turned upside down and backwards. I don't understand why any of this is happening. It hurts not being able to understand, and it hurts not knowing why God is allowing this to happen.
But I know it's gonna be ok eventually. I do understand what Romans 8:28 says, which is:
"And we know that in all things God works for the good of those who love him, who have been called according to his purpose."
This verse doesn't just say in some things, it says in all things. That includes the coronavirus. I believe that God is going to show Himself to so many people through this pandemic, and work in so many miraculous ways. My favorite song recently has been Waymaker, as the words can apply to basically any situation, including this one. He is the Waymaker, He is the Miracle Worker, He is the Promise Keeper, He is the Light in the Darkness. That's who our God is, and I believe that He is going to come through for us during this time, just like He always does.
Because even though I don't understand, I know God does. And I believe that with all my heart.
Even when I can't see it, You're working. Even when I don't feel it, You're working. You never stop, You never stop working. You never stop, You never stop working.